About us:
The Simenda Jewellery tale begins in 1998 in the city of Nazerth Illit. Andrey the founder of the company studied in the Moscow Jewelery university where he graduated with the highest marks and he moved to Israel.
As Andrey moved to Israel he started doing repairs for an old Jewelry store owner in Acre while learning the local hebrew language as time went by everyone realized Andrey's great artistic gift and wanted hem to work for them, as he got enough experience in the field he decided to open his first store in the City of Nazerth Illit, as time went by Simenda Jewellery designs were spread all over Israel every shop owner had to own a collection.
In 2008 we started exporting to the USA, Eastern and Western Europe and Asia. As time went by people have heard more and more about our brand, from word of mouth, Catalogs, retailers, store owners, shopping channels & centers Business owners are willing to join our welcoming family.

What sets us apart from other designers is our attitude towards our design, we use only the purest metal we don't lie about our product nor we deceit our clients about our quality. We use force to hold the stones rather than glue, it helps the gemstones to hold for much longer. We also use the cleanest silver there is, while some designers will buy recycled silver from electronic parts we buy pure silver and mix it with a German imported alloy that costs 1000$ per 1 KG that insures our silver will oxidize much slower than any other silver on the market.
We will do our best to provide the best customer support please don't hesitate to message us on any regard. You can contact us here Our company prides itself and is rooted in the belief that the difference is in the details. Simenda Jewellery is one of the few design houses where our own designers sketch each creation by hand and then follow the product from concept to fruition. It's a traditional process that has been practiced for centuries - yet the accessories themselves are always fashion-relevant and timeless works of art.
We look at every piece of jewelry individually to set a retail price that meets the market. The price you will pay for a piece will always be the very best combination of value, quality and style. We never mark our jewelry at ridiculous prices and then offer it later at a discount.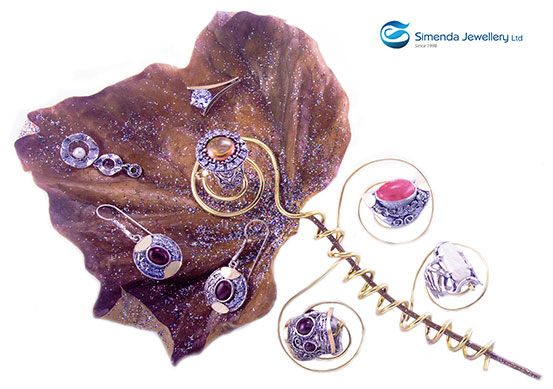 Our jewelry selection and options
Our jewelry is handmade with Sterling silver 925 , 9 karat gold and precious gemstones.We make Engagement rings, rings, earrings, pendants, necklaces, chains, full sets, watches, bracelets, spoons and various jewelry.

The gemstones we usually work with are ruby, sapphire, emerald, Synthetic opal, Pearls, Garnet, Cubic zirconia, onyx, lapis lazuli, turquoise, carnelian, rose quartz, opalite, coral and many more.
Our jewelry quality
Our jewelry is being tested in 3 different independent labs worldwide, Tel Aviv Israel, London United Kingdom, and Moscow Russia we test our jewelry frequently and always stay above the quality standards the labs demands from us.
We are also members of the Israel jewelers association.
Since 1998 Simenda Jewellery Ltd. is making the highest quality jewelry in Israel.
All of our products are handmade and our designs are originally made, inspired by nature, fashion, cultures, art, movies and latest styles worldwide.
Our diversity and style
We have a huge diversity in the jewelry trade, we specialize in Eastern and Western European, US and middle eastern styles and most of our jewelry are classics which means regardless of where or when you buy our jewelry it will look stunning and trendy.
We have very unique styles that you don't find elsewhere. For example our mediterranean style is common in the region but rarely made outside of Israel.
Also our free form style, designed by hand with wax pistol very unique. What's unique about this style is that it has lots of curves and it has the genuine handmade look.
We also have the symmetrical style, if you don`t like your jewelry a bit bent with the handmade style. We have the more common symmetrical style where all the corners are perfectly alligned. Please note all of our jewelry is handmade and designed by hand we don't use any 3D programs so every design you see was created by hand from nothing.
So regardless of what design you choose whether it's the free form, the symetrical or our mediterranean styles everything was made with passion and the joy of clients.
We are a reputable company with thousands of clients worldwide since established in 1998. We strive to offer the best quality in the market.

Please enjoy the low retail prices on our site, we are the manufacturers of the product, and you don't need to pay the extra store fees. Our factory is located in the Holy city of Nazerth in the Holy land of Israel. We allow tours and business meetings, but we will require you contact us priorly.
Wholesale buyers, store owners, buying agents and distributors.
If you find interest in our designs contact us directly.
We work with many suppliers worldwide and supply big quantities under short amount of time with very high quality to any part of the world.
Regular clients
To able to purchase from our store you will have to sign up in top right corner. Once you sign up you will get a confirmation E-mail with a link to activate your account please click it. Once you activated your account you will be able to pay for the desired items by 3 ways, Paypal, Webmoney or contact us directly for different payment option all 3 will be available at checkout. Once payment in received we will start production and update you with your tracking info via the E-mail you signup \ made the order.